Peterkin's die cut standard shapes
Peterkin has a large selection of die cut shapes that are available to order across a range of sizes to accompany your printing. Our die cut shapes are suitable for both digital printing and for letterpress, foiling, embossing and double-thick (duplexed) stocks.
Custom die cutting
Custom die lines are unique shapes created by you and exclusive for your use (it's your design and no one else can use it!).
For more information on how to create custom dies click here.
You can order Custom Digital die cutting for digital printing on standard thickness stocks, or Custom Traditional die cutting for double-thick (duplexed stocks), letterpress, foiling or embossing. How you create the die line is the same for either type.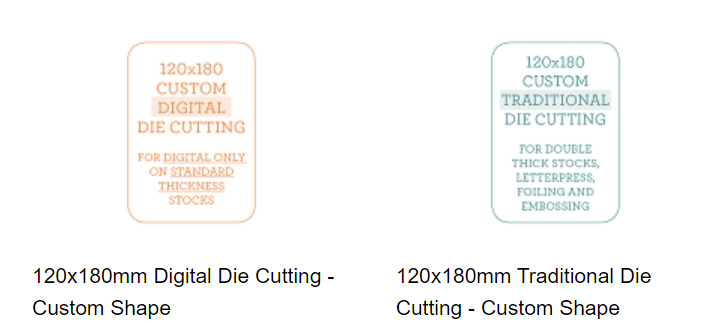 Please be aware that larger quantities and/or intricate designs may increase turnaround times for custom digitally die cut products. If your die line is unsuitable for digital die cutting one of our Customer Happiness Managers will contact you to discuss alternatives.
Peterkin die library
We also have die cutting for envelope liners to fit our envelopes, tags and place cards, pockets and sleeves.
You can download the templates and instructions here: